Final Update March 9, 2018.
Don't Over Develop Durrington!
The Campaign to save Durrington's Greenbelt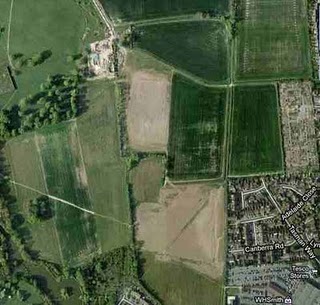 OVER the next six years up to 1100 houses could be built on the farmland to the north and west of Tesco in West Durrington. If allowed this would massively increase the population of Durrington yet with only a minimum of extra facilities, assuming there is money for them!.

Full details about the development are available at the council offices and main Library both in Richmond Road. They are also on the council's website if you follow this link: http://planning.adur-worthing.gov.uk/online-applications/ and type in the box "Land North of Fulbeck Avenue".
However due to the complexity and large number of documents it will be a daunting task for many of us to get to grips with, but from what has been read so far the developers have tried to reassure us they are able to deal with problems such as:
The risk of flooding in parts of Northbrook, Goring Green and Ferring see: http://bit.ly/ikA3cP

The increase in traffic on local roads

The ability of Southern Water to maintain the water supply

Concerns that the sewer system couldn't cope.

The visual impact on the setting of the National Park and ancient woods.

Blight on properties adjacent to the construction site.

Issues over the use of residential roads by construction traffic.

Noise, dust and fumes during the 6 years of construction.

The lack of school places.
Frankly we are not convinced by the developers' confidence and we now hear that some residents' have raised these further issues:
In the field at the top of Tasman way there is a depression (known as a swallow hole). To make this land stable a mixture of cement and chemicals has to be pumped deep underground at very high pressure. There are very serious concerns that due to the close proximity of the main aquifer drinking water could be contaminated.

As the coalition government is promising to "radically reform the planning system to give neighbourhoods much greater ability to determine the shape of the places in which their inhabitants live" via the Localism Bill, it follows a large development such as the one planned for West Durrington, should in all fairness, not be determined until the Bill passes through Parliament. See: http://www.communities.gov.uk/documents/localgovernment/pdf/1923416.pdf

The Worthing local plan puts strong emphasis on protecting the countryside and strategic gaps around Worthing. Although the West Durrington Development site is within the Built Up Area Boundary (BUAB) useful campaign information can be found here: http://bit.ly/nCjfPF

As the former St Barnabas Hospice, Norwich Union and the various Northbrook collage sites become available, these 'Brownfield' sites should be built on before the Durrington greenbelt.

With unemployment in the town at an all time high where will the jobs come from for these new residents'? Will they take my job?

At a time of increasing food shortages and rising food prices, to take land out of agricultural production is damaging to Worthing's future food security.

The plans include 'affordable' housing, but make no reference to rising energy costs for transport and within the home. Many of these homes will have to be retrofitted to take advantage of renewable energy (and many are not aligned to do so)

TRANSPORT: For all the greenwash about public transport etc, this is a car dependent suburb! A representative of the developers told me that he couldn't imagine people living in the new development without access to a car. That's not good for health or building community. We could do so much better for Worthing. Mixed developments that include employment and homes would be much better for community, transport and consequently the environment.

If houses are going to be being built they should take advantage of passive solar gain and renewable energy so that owners benefit from low energy needs and Feed-in-Tariffs from day one.

The case has simply not been made that for a development of this size, with little employment, dependence on travel by private car, unambitious targets for renewable energy and the loss of agricultural land. It will be part of our future problems, not part of a solution.
Please note: This application is due to come before the council planning committee very soon, so if you have concerns they must be put in writing now. Address any letter or email to:

Planning and Building Control
Worthing Borough Council
Portland House
Richmond Road
Worthing.
You can also send it by email to: planning@adur-worthing.gov.uk
Quoting References: AWDM/0661/14. AWDM/0663/14. AWDM/0603/14 and AWDM/0569/14. Also adding your name and address.
Point to note: As the same comments can be used for all four applications it is ideal to copy and paste a master letter onto four separate emails. Also don't just address each letter/e-mail as Mrs and Mrs, send 2 separate letters one as Mr the other as Mrs. The more mail they get more notice they take. Also remember other members of the family and also friends - get everyone to write in! ( If you would like a sample letter, have any suggestions, want to be added to our mail list or find any errors please email us at: dontoverdevelopdurrington@gmail.com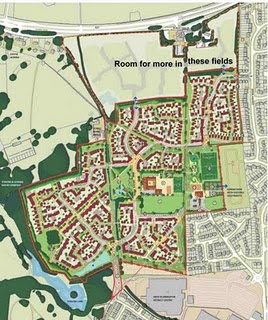 March 9, 2018.
Sorry But this Development Is Very Much Now Being Built
There's Not Much That Can Be Done Now Except to Keep An Eye Open To Stop Any Development In The Ancient Woods OR Changes To Titnore Lane.
Many Thanks For All Your help During This Long Struggle.
Finally. Don't forget if there's anything you are not happy about in your community let others know via the press. The addresses are:
Worthing Herald: letters@worthingtoday.co.uk
Argus: letters@theargus.co.uk
West Sussex Gazette: letters@westsussextoday.co.uk